Khaleesi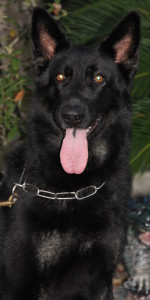 4.5 years old.
Khaleesi is a caring mother and is very MATURE.
Khaleesi has had her 3 litters and is now a retired breeder.
Her future can be a pet companion; OR a working  Service Canine with further training.
She is is 90lbs and her disposition is calm and she is naturally very obedient.
She gets along with children, people, and other animals.
She will add a lot of love into your household.
Please call to Meet our Beloved Khaleesi (which means "QUEEN").
352-596-3414