Home
Please fill out our questionnaire on the Contact Us Page…
and then give us a call 352-596-3414 Landline.
Current Puppy Inventory as of 01/13/2021
WE have 6 puppies that are ready now that you can choose from.
2 sable female available, DOB: 07/22/20
1 Black & Red Male, DOB: 09/23/20
1 Black & Tan Female, DOB:09/23/20
1 Black Male, DOB: 09/13/20
1 Solid Black Female, DOB: 09/13/20
1 female long coat Black/Red/Tan, DOB: 12/07/20, Available for there new home 02/04/2021
Winter & Gunner litter Born 01/01/21:  9 puppies; Black/Red, Black/Tan, and Solid Black, with full coats and short coats.  These pups will be available March 1, 2021. Accepting deposits now for your selection order.   
Goldie & Gunner litter expected January 18, 2021: Black & Tan Pups and Solid Black pups.
Please fill out the questionnaire on contact us page so we can match you with the pup you are looking for.  CALL for exact Pup pricing. 
Puppies come with folder of information 5 week old shots, and  have 8 week old shots and Health Certificates from the vet, and A food sample Box of Orijen Pet foods, Nuvet lab vitamins, & AKC microchip application
Puppies are World Class, High quality. Comes w/ Vaccinations, Flea Meds, and De-wormer.
We have 20 breeding females and 5 Breeding Males at our Location on 65 acres of land. Our canines live comfortably in there homes, they have daily vitamins & supplements and eat as much as they want and grow very large. My canines are happy and healthy. They are working class canines. They have short coats, medium coats, and full coats. Puppies can be trained for Protection and for service.
WE ARE OPEN for the sale of puppies during this season. WE practice safe hygiene and social distancing; and lots of Lysol! Please visit us if you are healthy with no flu like symptoms.
WE offer training.
Lets remember German Shepherds offer Security to your home during times where people are loosing jobs, Crime and theft do escalate.
Having a high-quality German Shepherd, "a Guardian Angel" in your home offers you piece of mind.
Come pick out your puppy. Litters are AKC Registered. Breeders Hips & Elbows are checked for quality. Breeders are DNA Registered. WE have over 90 years of experience in the family.
WE are a professional breeding facility, and we give the upmost experience to our preferred clientele.
We look forward to seeing you soon. WE have Big, Healthy, Puppies growing every day! PenDragon has your next German Shepherd. Look No Where Else.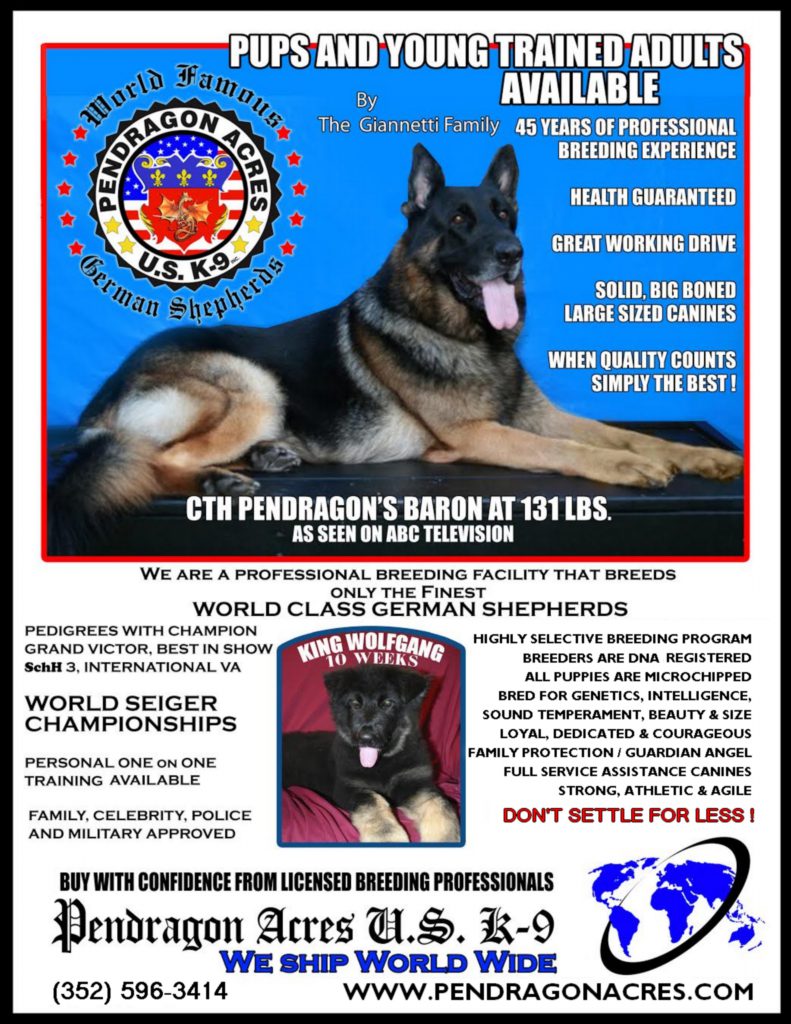 WE HAVE GERMAN SHEPHERD PUPPIES Year- Round! WE have all the colors and looks of the German shepherd. WE have the variety. The Rare and Traditional German Shepherd Puppies, Solid Black German Shepherds, Black & Tan, Black & Red, Red German Shepherd pups, Bi-color: solid black with color feet. Tri-color: Black, Tan, Red, Silver. Sable German Shepherd Puppies. Blue German Shepherds. Blue & Tan, and White German Shepherds. FLORIDA GERMAN SHEPHERDS. German Imported Champion Bloodline.