K-9 Training
A training evaluation is needed for your K-9, before we will quote you a price for the training. The Training Evaluation is 2 hours long; and the cost is $125.00 Cash.
The Stages of K-9 Training
Stage 1- Behavioral, 3 weeks
Stage 2- On Lead Control, 6 weeks
Stage 3- Loose Lead Control (off leash control), 8 weeks
Stage 4- Specialty (Service, Therapy, ESA, Protection)
K-9 Cerberus is a 1 year old Blue Nose Pit bull. Cerberus is hard of hearing, and will be learning sign language during his first training session.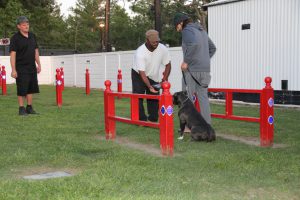 Judy & James Bond, and Sandra & Semper-fi Passed the service dog certification test.