November 25th, 2012
Hernando County trainer donates service dog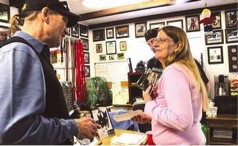 Above: Michael Giannetti of Pendragon Acres U.S. K-9 discusses Pendragon service canines with Katherine and Greg Lockwitch. Katherine lost her assisted service German Shepherd, Baron, when he was struck by a vehicle in their Ridge Manor neighborhood.
KIM DAME/Hernando Today correspondentPublished: November 25, 2012
When Katherine Lockwitch met Baron, a fuzzy mound of black and tan fur, he was just a few days old. Four years later, the Ridge Manor resident holds his picture gently between her hands, gazing lovingly at the German shepherd that became more than her pet. Baron was her lifeline.
Lockwitch was injured in an accident as a teen and suffers from a variety of health issues, including Tarlov disease, which affects her ability to get around without assistance. She brought Baron in as an assisted service canine hoping the pup would give her back some of her mobility. Baron gave her much more.
Today, Baron's harness is empty, a grim reminder to Katherine that her friend and companion would no longer rest his head in her lap, assist her to her feet or play Frisbee with her grandson, Caleb.
On Nov. 3, she said Baron was taken from the family in an accident that will be difficult to forget, let alone forgive.
Baron was struck by a small, older model pickup in the Lockwitches' neighborhood while playing Frisbee with Lockwitch's daughter and grandson. The driver that hit Baron hesitated briefly, leaned out his driver's side window and sputtered some words of profanity before speeding off, according to Lockwitch.
He has sped through the neighborhood before, seemingly without regard for consequence.
This time, Baron's life was ended as a result, leaving the family heartbroken and Lockwitch without Baron to assist her recovery from a surgery she had in Texas just two weeks prior. She had been home from the trip just 24 hours before Baron was killed.
"He was about me getting around in the yard," she said, "and getting to the grocery store."
Now Lockwitch must rely on her husband, Greg Lockwitch, who has survived four heart attacks and suffers from herniated disks and degenerative spine disease, to help her get around.
While the driver still has not been found, a happy ending to the Lockwitches' story is unfolding.
Michael Giannetti, owner of Pendragon Acres U.S. K-9 in northern Hernando County, expressed an interest in helping the Lockwitches after hearing of their plight.
Giannetti breeds and trains top-of-the-line pedigree German shepherds for protection and as assisted service canines. When he and Katherine Lockwitch spoke, Giannetti offered his condolences and suggested they meet.
The Lockwitches visited Pendragon Acres on Wednesday where Giannetti spent nearly two hours discussing what makes the Pendragon name synonymous with quality.
His canines, he said, are bred to "keep the integrity of the line intact." Eleven generations of top-quality shepherds reside in the homes of celebrities and other well-known figures, decorated war veterans, and families of disabled adults and special needs children.
"My goal," said Giannetti, "is to give people a better quality of life." Pendragon Acres U.S. K-9 is not a charity, Giannetti said.
"We choose a family and we help them get the canine from us and provide the training."
Pups aren't cheap, starting at $2,000. The cost to train an assisted service canine can run as much as $35,000.
"It costs the family nothing out of pocket," Giannetti explained.
The goal is accomplished through collaboration with several high-profile media sources, including the Florida Combat Network, CBS Radio 98.7 The Fan and Channel 10/10 Action Sports, as well as local media sources such as the Tampa Tribune.
Pendragon helps raise the funds needed to train the shepherds through sponsorships. The families are then spotlighted so the sponsors can see exactly how the money is being spent.
Families are chosen based on need, Giannetti explained.
"We can only help so many families a year," he added.
The Lockwitches, he said, will be one of them.
In fact, he told Katherine Lockwitch she would receive the pick of the litter for pups expected to be born before Christmas Day.
The two-hour meeting served as more than a chance to bond. Giannetti observed Katherine and Greg Lockwitch to best determine which of the three expected litters would produce a pup with the best fit. He was also building his training strategy.
Training, Giannetti said, would begin when the pup is 12-weeks-old and could take about a year and a half to complete. Training an assisted service canine, he explained, is a lot more involved than training for protection.
The Lockwitches would be involved in the training, bringing their new pup to the Pendragon compound as much as twice a week for each two-hour session.
The Lockwitches have already decided on a name for their Pendragon shepherd.
"We decided to name him Tarlov," Katherine Lockwitch said, in hopes of bringing more awareness to the rare yet debilitating disease that brought her to this point.
"Tarlov disease has taken so much from me," Katherine Lockwitch said. With all the media coverage associated with Pendragon Acres U.S. K-9 and Giannetti's decision to help the Lockwitch family, Katherine Lockwitch hopes it will bring awareness to the disease.
Tarlov, she said, will give back.
"We can't change what happened," Giannetti added. "But we can give Katherine a wonderful Christmas present."