Hometown Hero Lunch
Luncheon held for 9's Everyday Heroes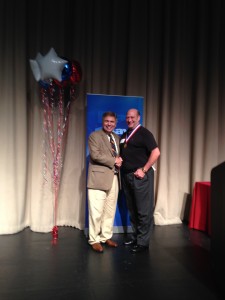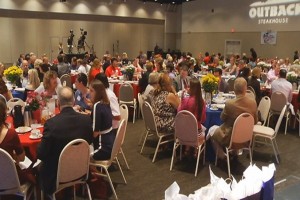 Dozens of People Gathered at the A La Carte Even Pavillion in Tampa to Celebrate those who Give back in the Bay Area.
By RaeChelle Davis, Reporter
Last Updated: Monday, March 24, 2014, 8:08 AM
TAMPA – Joe Versaggi spends his free time helping burn victims at Tampa General Hospital.
He does not do it for recognition or a pat on the back. Versaggi shows up to offer comfort because he is a burn victim himself after surviving a plane accident.
 "I always felt that I'm not really a hero. The heroes are those who have given everything and I'm still here to talk about it," he said.
 Versaggi is one of the 9's Everyday Heroes being recognized at the 10th annual luncheon.
 Dozens of people gathered at the A La Carte Even Pavillion in Tampa to celebrate those who give back in the Bay area
Outback Steakhouse has been a sponsor of the 9's Everyday Heroes Luncheon since the beginning.
"Part of our company's core principles and beliefs is giving for the sake of giving and not gaining," said Elizabeth Watts, director of media and community relations for Bloomin' Brands. "And today we have the opportunity to honor and recognize and celebrate so many people in our community who are giving their time and their talents to help others and make our community a better place."
Felicia Smith is one of those people. Once a month she makes dozens of meals and takes them to Williams Park in St. Petersburg for the homeless.
These heroes do not have super powers, you cannot even pick them out of a crowd, but their efforts stand alone.
Hernando County's Jackie Galvin runs an Angels network that helps people in need. There could only be one hero of the year and that honor went to Smith.
"You can miss two or three paychecks and if you don't have a savings account that's it. You could be homeless. If you don't have a strong support system, if you don't have a family, this is where you'll be," Smith told Bay News 9's Bill Murphy during an interview.
She hopes that her award will inspire others to pay it forward.
"I want to show them that anything is possible," said Smith. "You can be disabled, which I am. You can be disabled, you can be anything, and as long as you put your mind to it, dream big, then anything can happen."
Bay News 9's Morning Anchor, Erica Riggins emceed the event. The awards presentation will air on Bay News 9 in its entirety this Saturday at 8 p.m. and Sunday at 4 p.m. You can also watch at your convenience on Bright House Networks Local On Demand Channel 999.