Davien Martinez meets Bruno
Bradenton boy injured in drive-by shooting meets new service dog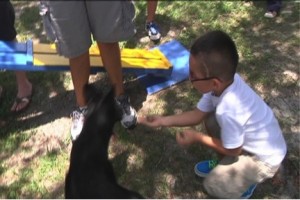 By Sally Mamdooh, Reporter                                                                                                                                                           Last Updated: Saturday, July 19, 2014, 6:04 PM
WEEKI WACHEE — 
The 5-year-old Bradenton boy who was hit in the head by a stray bullet during a drive-by shooting last year is getting his wish.
On Saturday, Davien Martinez met his new psychiatric service dog, Bruno.
"It's like a dream come true really for him," said Davien's mother, Diana Lopez. "He doesn't have any other siblings so this going to be like his brother."
Bruno will help ease Davien's journey with post-traumatic stress disorder and other disorders that came from the shooting.
Martinez was home in bed nearly one year ago when he was hit by a stray bullet. The bullet traveled through his forehead and cheek, damaging the socket of his right eye. The shooting caused him to go blind in one eye.
Dogs like Bruno typically cost $20,000 or more.
Fundraisers held by Tampa gun club and Pendragon Acres helped raise the money to purchase the dog.
Bruno will go home with Davien in the next couple of weeks.