K-9 Training
A training evaluation is needed for your K-9, before we will quote you a price for the training. The Training Evaluation is 2 hours long; and the cost is $125.00 Cash.
The Stages of K-9 Training
Stage 1- Behavioral, 3 weeks
Stage 2- On Lead Control, 6 weeks
Stage 3- Loose Lead Control (off leash control), 8 weeks
Stage 4- Specialty (Service, Therapy, ESA, Protection)
Call 352-596-3414 or Text 727-455-5243 to book your Training Evaluation.
Training sessions are once a week, for 2 hour sessions. Times Slots are available between Noon and 9pm.
You will have daily "homework" to do fo 30 mins everyday to practice what you learned that week. The following week you will be quizzed on what you were taught and then proceed to the next training task.
You are required to be dedicated to the training sessions, as you and your K-9 are "going to school."
Judy & James Bond, and Sandra & Semper-fi Passed the service dog certification test.
Trainer, Jim Lehmann, demonstrates the loose lead control of the canine, Kaylee Gioioso.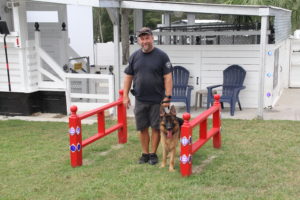 Stand ready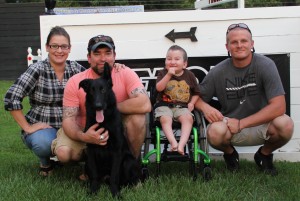 With Kaleb and Brutus